Products we use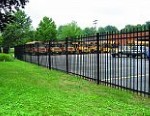 AMERISTAR FENCE PRODUCTS
Ameristar Fence Products - based in Tulsa, Oklahoma - is the largest ornamental fence manufacturer in the world. From its beginnings over a quarter-century ago, Ameristar concentrated on enhancing the aesthetic appearance of modern fence products, promoting ease of installation, while increasing strength & durability. Pursuing this focus, Ameristar designed and built a new, environmentally friendly, high-production facility. This resulted in the creation of the highest quality residential, commercial, industrial and high-end security fences in today's market place. Ameristar is America's only architectural metal fencing manufacturer who controls the manufacturing processes and all quality criteria from receipt of raw material to completion of finished product, completely within its own facilities. This direct manufacturing throughput system, coupled with the fast pace of Ameristar's Speed of Business model, ensures a very competitive price point, while our superior structural design and premium coating systems guarantee a significantly lower long-term cost.
Who we enjoy working with

Emmer Brothers Cedar Outlet
Emmer Brothers Cedar, We are your Western Red Cedar Wood Specialists & Now Carrying Granite Products Western Red Cedar: Natural Wood Siding, Natural Wood Decking, Premium Wood Fencing, Paneling, Beams, Cedar Shakes and Shingles Port Orford Cedar: Decking Brazilian Hardwood: Decking (From Sustainably Managed Forests) Recycled Granite: Pavers, Split Stone Slivers, Split Stone Tile, & Tumbled Stone Alder Trim: Premium Frame Grade To provide the finest service and products so that our customers can make intelligent choices that lead to outstanding results on their projects. Emmer Brothers Cedar Outlet located in the Gallatin Valley of Montana. We are a small retail lumber yard that specializes in finding great values in Western Red Cedar, Spruce, Pine, Fir, Aspen and Brazilian Hardwoods.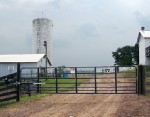 Mighty Mule Automatic Gate Opener
Mighty Mule® branded automatic gate openers, offers many electric gate openers to choose from as well as a wide variety of gate and gate opener access controls including gate remote controls, driveway alarms, wireless exit devices and more to customize your gated entrance and gate openers. If you are in need of a driveway or walk through gate, Mighty Mule® offers easy to install steel gates for installation as an automatic driveway gate or property security gate. Our driveway and pedestrian gates have the very popular wrought iron gate design.

GALLAGHER Fence Systems
Celebrating a Heritage of 75 Years Gallagher pioneered New Zealand's first electric fencing system in 1938 and has consistently led the way in quality, innovative animal management systems. We offer electric fencing, weighing, data collection and Miraco watering systems for specific animals and applications so you can be sure you're using the best system solution to meet your unique needs. Gallagher's Next 75 Years The future holds great challenges and opportunities for United States farmers and ranchers. Users of our quality components and systems trust us to deliver solutions that help them do and achieve more on their land and with their livestock.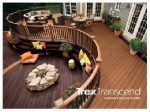 Trex Product's
Life Feels Better on Trex®. Take everyday activities outside, and they stop feeling everyday. There's a freedom to being outside. You can laugh louder. Go barefoot. Doze off in the sunlight. In a word, relax. The maintenance problems that come with wood decks don't come with Trex. So you're time is spent relaxing on your deck, not working on it. What is Trex®? Trex is the leading brand of alternative decking, railing, and trim products designed to maximize your outdoor living experience. Trex Company created the composite decking category and revolutionalized the industry. Since then, Trex has inspired many imitators, but they still can't match the enduring quality and beauty of Trex. In the end, there is only one genuine Trex. Be sure to ask for it by name. Environmentally Friendly. All the ingredients we use are being reused and the process to make them is also environmentally responsible. Trex is made from reclaimed plastic and wood - materials that would otherwise go unused in landfills. In fact, useof Trex Decking and Railing systems contributes to a building's enviable LEED points. Trex® Warranty Trex's unmatched 25-year limited fade and stain warranty for Trex Transcend® is the strongest in the industry. Combine that with our nearly 20-year track record, and you can see why Trex is the industry's #1 national brand.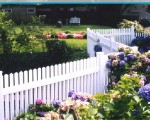 Westech Vinyl Products
Westech Fence Systems With Westech fence systems, your imagination is your only limitation. We can bring your idea of the perfect fence into reality, the perfect way to express your personality and add beauty and value to your home. And, when it's done, all you have to do is enjoy it. No painting, no staining, no worries. It's virtually maintenance free and guaranteed to last a lifetime. In fact a Westech fence will not only exceed your expectations, but will, most likely, exceed your imagination. Explore the possibilities, imagine your new fence, and then, contact a Westech dealer/installer near you.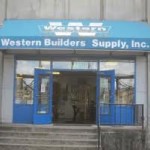 Western Builder's Supply
Business is built on relationships. At Western Builders Supply, our focus is on great relationships, top-tier products, and rapid order delivery. Western Builders Supply began in 1945, when a group of businessmen pooled their resources to create a wholesale building materials company as a buying group for the lumber yards they represented. In 1990, the company's focus shifted from generalized building materials to specialized high-end construction fasteners, culminating in the flagship line of Star Drive screws. Western Builders Supply has been family owned and operated for more than twenty years and will remain so. Today, Western Builders Supply is active across the nation. Our flagship Big Timber line is the ultimate in pro building. We are committed to generating business and revenue for our clients. Most orders are shipped the same day they are placed. Our Quality Control team eliminates errors to the highest possible degree.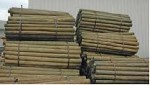 Marks Miller Lumber
Marks-Miller Post & Pole, Inc. is owned and operated by Gary and Debbie Marks and Darrell and Karen Miller. Both families are actively involved in all of the daily operations of the business and have been since the beginning in 1976. Chances are if you call to ask about our products or services, one of us will answer the phone. Or you might get our foreman Marvin Allison who has been with us for 25 years. We are all committed to giving our customers the best service possible Custom Treating Services We offer custom treating services to anyone with a need to protect wood from decay. Prices are determined by the volume of material being considered, how it is packaged when it arrives and what the final specifications are. Turn around time is usually about two weeks but will ultimately depend on a variety of factors including the moisture content of the product. Marks-Miller Post and Pole follows American Wood Protection Association standards in it's treating process. AWPA was founded in 1904 and is the principle Standards-writing body for the wood preserving industry in the United States. Our products also meet Montana Department of Transportation standards. AWPA has made major reference changes in it's book of standards in recent years. The "C" standards are no longer used and have been deleted from the Book of Standards. They have been replaced with the "UC" standards in an attempt to make these treating standards more user friendly for Specifiers.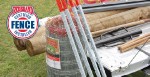 Red Brand Fence Wire
Red Brand Created Around 1925, the first "Red Brand" fence appeared. Some farsighted Keystone employee, in a display of modern marketing savvy, dipped the tops of Keystone wire and fence posts in red paint, making Keystone's Red Brand® products instantly recognizable on farms all over America. Today, Keystone still tops off these products with a coat of red paint – even the barbs on coils of barbed-wire. At Red Brand, we recognize the importance and value of protecting our environment. That's why we're recycling every day, giving old steel a new purpose in our products. Red Brand has been around since 1889. So chances are, the Red Brand fence you use today was a significant part of our country's history and will serve generations to come. Together, we're continuing the legacy. It's all part of our commitment to protecting what's important to you and the world in which we live.